News Release: Ontario-Federal Child Care Agreement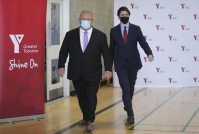 Dear Friends and Colleagues,
Yesterday, history was made as the long-awaited federal-Ontario child care agreement was signed at the YMCA in Brampton. This is a historic moment for Ontario families to improve the accessibility and affordability of high-quality licensed child care. The YMCA of Eastern Ontario supports the announcement of the federal-provincial child care agreement to improve accessibility and affordability of high-quality licensed child care in Ontario. We are thrilled to see this decision has been reached.
Through our experiences delivering programs and services to families even during the COVID-19 pandemic, we have learned that families need support more than ever.
Child care is essential – in a pandemic or otherwise. It's essential to families, the economy, and to our collective prosperity.
Unemployment throughout the pandemic has disproportionately impacted women over men. Young, racialized, single-parent, and vulnerable women have been particularly impacted.
Access to licensed, high-quality child care gives women a choice to enter or return to the workforce knowing that their children will be in enriching, nurturing and safe child care environments. Too many women on waitlists must "choose" between unlicensed child care or remaining out of the workforce.
We welcome the commitment to expand not-for-profit care.
Our YMCA is looking forward to working with all levels of government and our community partners to bring this agreement to life.
Rob Adams
CEO, YMCA of Eastern Ontario
Jill MacDonald
Director of Operations, Childcare
---
Q & As
How long have Ontario YMCAs been active in child care initiatives?
We bring more than 55 years of experience delivering licensed child care, and decades of experience as providers of before and after-school programs, day camp, health and fitness, employment training and other programs to help people live healthy, meaningful lives.
Does the Y support the introduction of an Ontario Child Care Agreement?
Absolutely. Because we know it will help:
Improve affordability for families by reducing parent fees,
Promote access for families by expanding not-for-profit child care, and
Create opportunities to recognize the critical role of our child care workforce
Why is child care such an important pillar of service to the YMCA?
Child care is a critical component of community infrastructure, which enables families – and women in particular – to enter and re-enter the workforce, while providing our youngest learners with a strong start. High-quality child care programs also ensure that children gain from stimulating learning experiences. That contributes to healthy early childhood development while improving school readiness and lifelong employment outcomes.
Why is affordable child care a priority for the Y?
The Y knows that parents want affordable, high-quality care for their children – as evidenced by the long wait lists we have for licensed child care programs in urban, rural and suburban communities across Ontario.
How many child care spaces do YMCAs provide in Ontario?
The Y delivers nearly one fifth of all licensed child care in Ontario equating to a little under 20% of all licensed child care spaces in the Ontario,
Provides child care at over 800 locations across the province, and
Employs more than 7,000 child care educators across Ontario.
How many more child care spaces will the agreement see created at the Y?
We share the enthusiasm and excitement of the agreement being signed today. At this time, it's too early for us to know with certainty how many more child care spaces will be available at the Y. As the agreement unfolds and comes to life, we're committed to providing high-quality, licensed child care to families and children in the GTA, and across the province.
How many more children will receive care at the Y thanks to the agreement?
It's too early to say. We look forward to learning more about the details so we can continue to serve families and children across the province. Thanks to the federal-provincial child care agreement, we will be working hard to provide high-quality, licensed child care to families and children in need.
How does the Y plan to attract and retain new child care workers/educators?
Skilled, experienced and committed child care educators are the backbone of our child care system. Yet the Y and other operators across Ontario have long faced a workforce shortage. In fact, although poised to scale-up and expand our child care programs in new communities, we are limited by our ability to recruit qualified staff to lead the programs.
Without increased government support for wages, operators face challenges offering high-quality programs at an affordable cost. We believe the solution is to invest in the development of a comprehensive workforce strategy for the sector, complete with a targeted recruitment plan and an updated compensation framework to encourage retention. The commitments in this agreement are a good first step.
Can you provide examples of how government funding could assist the Y and other child care operators to attract and retain child care workers/educators?
Our charity is calling on the government to fund innovative programs, including micro-credential opportunities, to train new professionals to enter the workforce (this could be a joint initiative with the Ontario Ministry of Education and the Ontario Ministry of Labour, Training and Skills Development – similar to the strategy currently underway to recruit and train Personal Support Workers to support needs in Long-Term Care).
We are also looking for the government to fund apprenticeship opportunities that allow child care educators to earn a living while improving their qualifications. With the right supports in place, many child care assistants could retrain to become Registered Early Childhood Educators; many child care assistants are newcomers to our communities and would benefit from training incentives and opportunities.
To retain our qualified staff, we are asking the government to establish and fund fair and competitive compensation standards that close the wage gap between what Registered Early Childhood Educators earn in child care programs vs other sectors (e.g. school boards) – including: access to training and development opportunities, and enhanced operating funding to support full-time hours, benefits and pensions.
How many child care workers/educators are currently employed by the Y?
Currently YMCA child care programs employ more than 7,000 in Ontario – the vast majority of whom are women. However, the pandemic has exacerbated the workforce shortage.
Are all Y child care spots currently filled in Ontario? How long is the current waitlist?
Though many programs are currently at capacity, there are locations where spaces are available. Waitlists tend to be due to staff needs rather than the availability of child care spaces. The workforce continues to be the biggest variable impacting families securing a child care space.
How will the YMCA address the additional interest in child care spots if many parents are already on waitlist for services?
COVID-19 has impacted return rates into our child care centre and it has exacerbated staff shortages. The Y is focused on workforce needs in order to be able to provide more licensed child care spaces to families. The Y will work closely with municipalities and the Ministry of Education as more information becomes available surrounding the expansion strategy.
Will the Y offer extended hour child care spaces for families requiring child care in the evening and on weekends?
The Y is always open to exploring flexible models of care and this will be part of longer-term planning.
When will parents start paying $10 a day for child care at the Y?
Today's announcement committed to reducing parent fees by 25% by next month and 50% by the end of this year. We've been advocating for this deal for some time and look forward to implementing the fee reductions as soon as possible. We will share more information as soon as we have it.