Our sincere condolences on the passing of Richard Dumbrille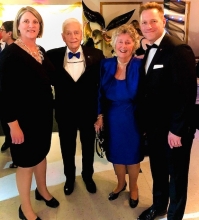 It is with great sadness that the YMCA of Eastern Ontario says goodbye to an inspirational community leader, Richard Dumbrille.
Richard was passionate about his community of Maitland, restoring numerous houses which led to him becoming a Member of the Order of Canada.
But his work did not end there. Throughout his life, Richard was active in his community, always seeking ways to make it better. Along with Dave Beatty and Paul Fournier, Richard founded the Brockville and Area YMCA Foundation to support the availability of healthy Y programs locally. He sat on numerous boards, was a founding member of Ontario Heritage Foundation and was chairman of the Prescott Suburban Planning Board – to name only a few of his accomplishments. He was recognized with many awards for the work he carried out for our community.
"Richard not only loved his community, but was able to get people to work together to make things happen. His has certainly left an important legacy," said Rob Adams, CEO, YMCA of Eastern Ontario. "I was fortunate to have Richard as a mentor in this, my first CEO appointment. He provided steadfast support to our foundation during this very challenging time when many local Ys are trying to survive the pandemic. I will miss his wisdom and his depth of character."
The board, foundation and staff at the YMCA join Rob in sending our very sincere condolences to the Dumbrille family. May happy memories bring you peace, support and strength.