YMCA Annual Campaign: Making history. Building the future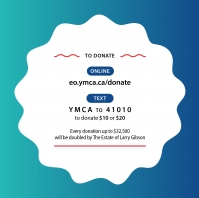 News Release
Brockville & Kingston, ON – When you give to the YMCA of Eastern Ontario, you're making history and building the future.
Since 1851, the YMCA has been part of the DNA of Canada, having been on the forefront of many important Canadian events. Some of these are lesser known such as offering the first night classes to women and immigrants, helping to found three Canadian universities, training Canadian soldiers to return to civilian life, expanding libraries to working class neighbourhoods, and pioneering youth leadership programs and street outreach.
There are some things for which we are better known including building Canada's first summer camp, recognizing the importance of fitness and developing fitness leadership programs, inventing basketball and creating group swim lessons.
But all of this tells only a small part of the Y's story.
"The YMCA has a history that I'm really proud to be part of it," said Rob Adams, CEO, YMCA of Eastern Ontario. "The Y isn't just one thing; it keeps evolving to offer what's needed. That's why we partner with other groups like Pathways and Connect Youth to help kids be successful or why we opened a Teen Drop-in Centre to give kids somewhere safe to go after school. It's why we help those with chronic health conditions regain their lives and why we offer leadership skills training."
The YMCA is a charity that provides financial assistance to about one in four of its members. No one is turned away from the Y. Inclusivity is a cornerstone of Y values.
"Financial assistance helps kids get to camp and seniors regain their quality of life with the help of our programs. No matter someone's stage in life, the Y has something for them. And it's truly amazing the changes that the Y brings to so many lives. Just look at our Y Penguins program that helps kids with physical disabilities learn confidence – and for some, even medals at Paralympic games," Adams said.
This year's Strong Communities' fundraising goal is $100,000. The campaign runs from October 13 to November 13. Donations may be made online at eo.ymca.ca/donate or by texting YMCA to 41010 to give $10 or $20.
The YMCA of Eastern Ontario is grateful again this year to have donations – up to $32,500 – doubled by The Estate of Larry Gibson. This means your donation has twice the impact!
---
About the YMCA of Eastern Ontario
The YMCA of Eastern Ontario is a charity that provides programs and services to improve health and health outcomes, develops leaders, helps build social connections and provides safe, inclusive spaces for people of all ages. The Y is Canada's largest provider of childcare with trademarked curricula, and offers fitness and other programs including SCUBA, Karate and Total Life Care.
For information or to arrange an interview, please contact:
Colleen Gareau
Director, Marketing and Communications
colleen.gareau@eo.ymca.ca
613-888-9298