YMCA of Eastern Ontario Provides Clothes for Local Agencies
News Release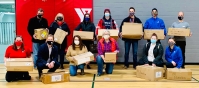 BROCKVILLE & KINGSTON, ON – What's better than holiday spirit? The holiday spirit arriving in November!
Through its international partnerships, the YMCA of Eastern Ontario has received 92 boxes of new Banana Republic clothes donated by Gap Inc.
"As soon as we heard that Gap was offering to donate new clothes, we knew that agencies across our region would be able to put them to good use," said Rob Adams, CEO, YMCA of Eastern Ontario. "Gap contacted the YMCA and we reached out to agencies who work with those who are vulnerable, hoping to be able to provide some joy to some terrific kids."
Boxes of clothes from Banana Republic arrived in early November and distribution took place today. Youth Diversion, Big Brothers Big Sisters, St. Vincent de Paul, Girls Inc. and Pathways for Education are the recipients of the clothes and footwear.
"Youth Diversion helps over 1,400 youth and their families in KFL&A overcome challenges each year by providing individualized services to divert youth from risk, by providing both intervention and prevention services, and by working collaboratively with youth, their families, other agencies and our community," explained Shawn Quigley, executive director, Youth Diversion.
The donation is an important one for local youth.
"We are extremely grateful to be considered by the YMCA of Eastern Ontario for this gift of clothing," Quigley said. "Our children and youth rarely have the opportunity to be gifted new clothes, making your donation that much more special for them. Our plan is to host a clothing carousel and to individually provide the children and youth with the clothes donated by Banana Republic and the YMCA of Eastern Ontario."
Lesley Hubbard, executive director for Girls Inc. said: "Girls Inc. delivers life-changing programs and experiences that equip girls to overcome serious barriers to grow up strong, smart, and bold. We're very excited to be exploring opportunities to work together with the YMCA of Eastern Ontario to meet the needs of girls and young women in our community. This clothing donation will allow us to help families address some of their most basic needs. We recognize that everyone is better off when organizations work together for the good of the community."
The YMCA is dedicated to the growth of all persons in spirit, mind and body, and to our sense of responsibility to each other and the global community.
"We were very happy to be able to connect our community partners and agencies with this opportunity," Adams said. "It's one way to show that we live our values everyday."
About the YMCA of Eastern Ontario
The YMCA of Eastern Ontario is a charity that provides programs and services to improve health and health outcomes, develops leaders, helps build social connections and provides safe, inclusive spaces for
people of all ages. The Y is Canada's largest provider of childcare with trademarked curricula, and offers fitness and other programs including SCUBA, Karate and Total Life Care. Its values are: caring, respect, honesty, responsibility and inclusiveness.
-30-
For more information or to arrange an interview, please contact:
Colleen Gareau
Director, Marketing & Communications
YMCA of Eastern Ontario
colleen.gareau@ymca.eo.ca
613-888-9298